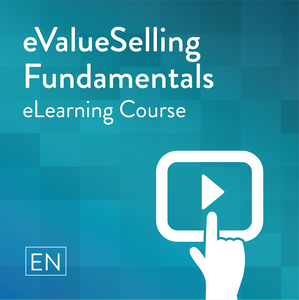 eValueSelling Fundamentals® English
Regular price $660.00 Sale
The eValueSelling Fundamentals eLearning course is a 2-hour self-paced sales training course that teaches the ValueSelling Framework® fundamentals: learn the processes, tools, and vocabulary in preparation for the ValueSelling Fundamentals workshop.
Who Should Attend:
Sales Representatives
Sales Managers
Sales Operations Management
Marketing Management
This online sales training course develops the new sales representative's awareness and skills in the ValueSelling Framework® process. The course also delivers detailed reports to management on your sales force's course scores and performance.
Topics Covered:
The course is divided into four phases:
ENGAGE
O-P-C Questioning Process
Power: Finding and Gaining Access to Key Decisionmakers
QUALIFY

The Differentiated VisionMatch™
Uncovering Business and Personal Value
The Qualified Prospect Formula®
ADVANCE
The ValuePrompter®
Opportunity Assessments
Anxiety Questions
CLOSE
The Mutual Plan Letter
The Reverse Timeline