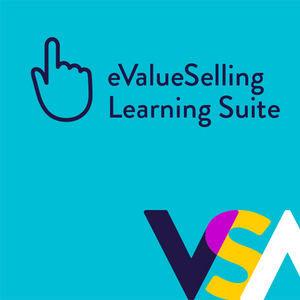 eValueSelling Learning Suite
Regular price $1,200.00 Sale
eValueSelling Fundamentals® and Executive Speak™  eLearning Suite
Commit to your success. Get organized. Do the homework.
Be prepared. Overcome fear. Keep a cadence. Make a
connection. Ask good questions. Offer excellent solutions.
Focus on value. Be persistent. Keep it simple. Drive results.
The eValueSelling Fundamentals eLearning course is a 3-hour self-paced sales training course that teaches the ValueSelling Framework® fundamentals: learn the processes, tools, and vocabulary in preparation for the ValueSelling Fundamentals workshop.
Topics Covered

Your Sales World
The Qualified Prospect Formula™
The O-P-C Questioning Process
Creating a Differentiated VisionMatch
The Mutual Plan
Defining Business and Personal Value
Power: Who Has It and How To Reach Them
The ValuePrompter®
Executive Speak™ develops your business acumen to think like an executive, predict potential business issues, and then correlate how your products and services impact financial metrics.

Executive Speak™ builds off the globally proven ValueSelling Framework® sales methodology/ This award-winning, interactive e-learning module features the 360° Profile Builder™, a unique tool that helps turn information into insights and automatically populates a ValuePrompter®.

Proper preparation is what sets high-performers apart from the pack. Executive Speak provides the roadmap for a productive and engaging conversation.