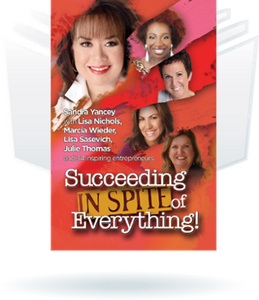 Succeeding In Spite of Everything
Regular price $17.95 Sale
Succeeding In Spite Of Everything is the latest book from Sandra Yancey, founder and CEO of eWomenNetwork, the premier women's business network in North America. This much-anticipated book is full of rich insights, lessons learned and savvy moves that inspire and shake up old paradigms of success.
Succeeding In Spite Of Everything celebrates the brilliance and fortitude of a dynamic and diverse group of entrepreneurs, business owners and corporate professionals. The book features stories from New York Times bestselling author and world-class speaker Lisa Nichols, author of No Matter Whatand star of the international phenomenon The Secret; Marcia Wieder, founder and CEO of Dream University and author of 14 books, including Making Your Dreams Come True®; and noted speaker and founder of a multi-million-dollar home-based business, Lisa Sasevich. 35 more inspiring entrepreneurs reveal how they too beat the odds to achieve the businesses-and lives-of their dreams.
In keeping with eWomenNetwork's commitment to "lift as we climb," Succeeding In Spite Of Everything is a touchstone, the go-to book for aspiring or seasoned entrepreneurs who need a "lift" to help them push past perceived limitations and rise up to meet their destinies.